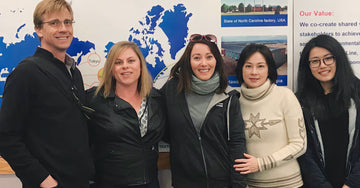 Our Mema, sewed the first "shoodie" after Sean came off the mountain and did a quick sketch of what would become the perfect base layer. It was an instant favorite. Different from a sweatshirt hoodie because of the breathable, moisture-wicking fabrics we used and maximum protection coverage – it was a true base layer for every adventure and activity.  We used it while skiing, running, cycling, fishing and gardening. We wore our Ushoods on the sidelines while our kids wore them on the fields as they played their sports.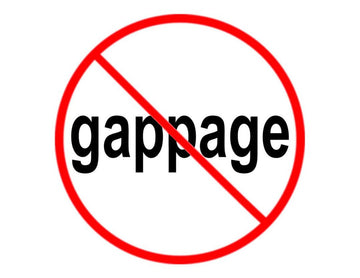 Innovation - No Gappage
The first Ushood® was created 20 years ago for my husband, Sean, who wanted to put an end to gappage.
The goal was to create a one piece base layer that eliminated the gap between a shirt and face mask - the infamous gap where cold, wind, snow and sun inevitably sneak in.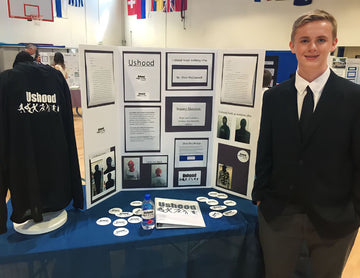 The Ushood® Journey 🚀
From Family Idea to Brand Reality
20 years and many more iterations later, my son decided to use the perfected product for his eighth-grade Capstone project. Though we had always wanted to turn the idea into something bigger, his encouragement to us to bring it to market was the catalyst for creating the Ushood® brand.  Our daughter has used her creativity and skills to help lay the groundwork as we launch.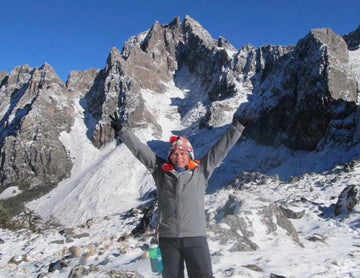 A Commitment to Quality and Community
After two years of research and planning, we are proud to offer Ushood® to families everywhere. As we grow, we are staying true to our values, and we are committed to delivering the ultimate in comfort and versatility, made from high quality materials right here in the USA. We are a family that firmly believes in giving back, therefore, proceeds from every Ushood® sold will be donated to a registered nonprofit.
Ushood® take on life with comfort & confidence - and without gappage to slow you down. #UshoodDoU!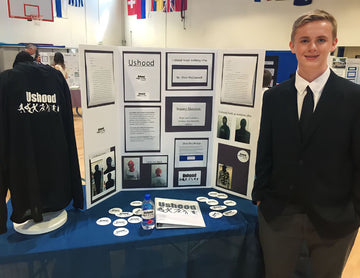 No Poly Plastic Bags!
Much to our manufacturer's dismay, Ushood® is their only client who refuses to wrap any of our items in poly plastic bags. This decision alone has saved thousands upon thousands of plastic bags from ending up in a landfill or ocean.Additionally, the little bit of packaging we use to protect Ushoods for our customers are all natural fiber reusable bags and/or recycled tissue paper. Reduce, reuse and recycle, baby!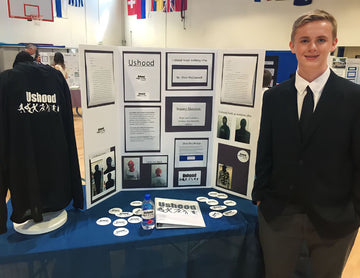 Bag the Tags!
What's the first thing you do with a hang tag on any clothing items you buy? My guess is that 99% of you said that you rip them off, occasionally creating a hole in your brand new garment, and throw it away. Ushood® has no interest in putting holes in our high quality base layers or creating unnecessary waste. You can find our care instructions online and on a recyclable info card included in your order.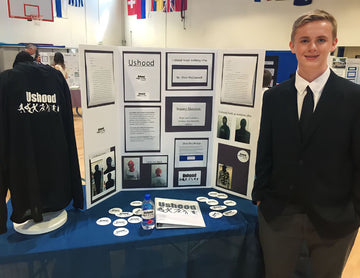 Ditch the Itch!
Who needs a scratchy tag in the collar of their base layers when all of that info can be included on the interior of the fabric? No one, that's who.  We go to the effort to make our base layers extra soft, especially on the inside, and that includes being tag-free. No gappage and no taggage mean ultimate comfort for U.
No one person or organization can solve all of the world's problems – or even one problem all on its own. However, if we all take small steps within our capabilities, they will add up and make a huge difference. Thank you for learning about the ways in which we are doing our part.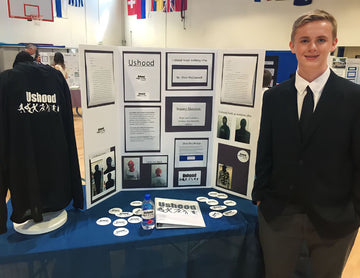 100%+ Made in the USA
What does the "+" mean? ....It means we walk the walk.
Ushood® base layers are proudly made right here in the USA every step of the way. Even the yarn used in our fabrics is spun here in the United States.
Many companies will claim to be "Made in USA", however that term can be used very loosely. Some import all of their raw materials and merely assemble them in the US, and some just make the claim with no legitimacy at all.
All Ushood fabrics are made at a facility in North Carolina that produces the highest quality outdoor and sport clothing available. Our manufacturer is Bluesign certified, ensuring the items they produce are the most environmentally friendly and socially conscious versions possible. From yarn to fabric knitting, dyeing, printing and manufacturing, the facility is committed to saving energy, reducing waste and obtaining zero emissions. Ushoods are then sewn by teams of experts in New York & Maryland.
When searching for a manufacturing partner, having our layers made in the USA was very important. We worked tirelessly to create custom colors made from the best fabrics and with the best fit. Ushood® is proud to have its layers truly 100%+ Made in the USA!