News
Hit the Slopes: Must-Visit Ski Resorts in Lake Tahoe
by Divya Krishnamoorthy on Nov 01, 2023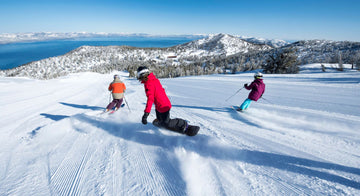 There are numerous choices available when planning a trip to Lake Tahoe. With its breathtaking vistas, unique footprints, rugged terrain, and convenient proximity to the Bay Area, the area is a fantastic choice for a ski trip. However, only some Tahoe ski resorts are equal, so you may be thinking about the ideal place to visit. In this article, we'll evaluate the total mountain experience of the Tahoe ski regions and point out their advantages and disadvantages.
This list doesn't include small hills like Donner Ski Ranch and Boreal. Instead, it has resorts that skiers of all types can enjoy. Before we start, we want to clarify that none of the alternatives on our list are really bad. All of them are better than average for skiing in North America.
Palisades Tahoe
The Palisades Tahoe duo wins gold and silver in Tahoe. The best Tahoe resort is Olympic Valley, formerly Squaw Valley, on Palisades, which is separate from Alpine Meadows but will be connected by gondola next season. Every peak in this challenging area features world-class chutes, cliffs, and couloirs across various geographies. Although this resort lacks Heavenly's lake views, its landscapes, rock formations, and high-alpine bowls are stunning. Spring skiing is available here, with the most significant years lasting until July. However, beginners and intermediates may find better slopes elsewhere, and this famous resort is known for long lineups on weekends and holidays. No Tahoe resort is flawless, but this one is hard to beat.
Heavenly
The Tahoe location with the finest lake views is Heavenly. The resort overlooks the lake, creating unique ski resort views. The resort has enough land to keep most guests engaged for days. Glades in the upper mountains and the expert Mott and Killebrew Canyon zones, when conditions allow, are notable. Heavenly's footprint is difficult to navigate, with limited bowl terrain and variable lower-mountain conditions—guests may have to download the lifts to leave the resort. The mountain has several tricky chokepoints and gets busy at peak hours. Heavenly's views are unique, but we can't make it number one.
Kirkwood
Kirkwood is a great Tahoe resort for "no-frills" since it is remote, has slow lifts, and has little build-up. Kirkwood stands out with a spectacular footprint, outstanding peaks that line the footprint (mainly as the resort is one hour south of the lake and has no lake views), and lighter, drier snow than other competitors. The lack of people adds to the impression of isolation. Kirkwood has the best extreme terrain in the south part of Tahoe, with chutes, cliffs, and couloirs right off the lifts. The most challenging runs involve straight-lining or jumping to land safely. Kirkwood excels in technicality but needs more beginner and intermediate courses. Its trails are short, with a 2,000-foot vertical drop. The resort is also plagued by wind holds throughout the season. Kirkwood appeals to extremes and natural beauty lovers, but it needs to be bigger and logistically capable enough to compete with the other resorts on this list.
Northstar
Northstar may look good on paper if you still need to. The mountain is tempting with high-speed lifts, over 3,000 acres of terrain, and a dedicated freestyle mountain zone. Northstar needs to include certain critical elements that its competitors excel at. The landscape feels normal for a big mountain. Northstar has remarkable trees but no bowls, and most paths are similar. Northstar lacks expert runs; thus, it lags behind neighboring Tahoe mountains' world-class steeps. The resort feels classy and commercialized, with few lake views compared to other Tahoe slopes. Finally, recent seasons have seen much worse audiences. Northstar may be good if you want a mountain with average, below-treeline topography, wind resistance, and a solid early-season snow base.
Sugar Bowl
Sugar Bowl, the first major ski resort on I-80 from the Bay Area and Sacramento is one of the most accessible. Sugar Bowl stands out for its inclusive footprint, from family-friendly greens and blues to extremes. Due to the lake effect from adjacent Donner Lake, the resort has some of Tahoe's highest snow quality and high-speed lifts in most sections. The resort is a little over 1,000 acres and has a 1,500-foot vertical plunge from top to bottom. In addition, several of Sugar Bowl's best expert lines are rarely open, sometimes for seasons. Sugar Bowl is a well-rounded mountain but needs to be more significant to compete with Tahoe.
Mount Rose
Mount Rose is the most accessible peak from Reno, along the route used to reach most Tahoe ski destinations and approximately 30 minutes from many parts of the city. The resort has better snow quality than any other Tahoe resort because of its higher base elevation. Due to its exposure, Mount Rose has some of Tahoe's most significant wind issues, resulting in wind holds and eroded slopes. Expert Chutes on Mount Rose are challenging, varied, and easy to access. However, these lines rarely open, and the resort's terrain is average. Mount Rose's small footprint and limited lake views hamper its appeal, but the ideas of adjacent Reno, which is considerably lower in elevation and has a different terrain, are fantastic.
Diamond Peak
Diamond Peak has excellent lake views but a mediocre climbing experience, like our prior summit. Diamond Peak has some of the best on-mountain grooming in the region, but its Lake Tahoe views are less outstanding than Homewood's. The resort has a surprising terrain park, good off-piste glades, and an upper mountain high-speed lift. Diamond Peak is the smallest resort on this list at 400 acres and has a limited footprint. In addition, Diamond Peak is low for Tahoe, so conditions vary throughout the season, especially in the resort's peculiar glades. Diamond Peak outperforms Homewood, but its topography and amenities are inferior to the other summits.
Lake Tahoe is a winter wonderland for avid skiers and snowboarders, offering an array of exceptional ski resorts. From the powdery slopes of Heavenly to the charming alpine village of Northstar, each resort provides a unique experience for every winter enthusiast. Lake Tahoe has it all if you're seeking heart-pounding runs or serene mountain vistas. So, gear up, hit the slopes, and let the adventure begin in this snow-covered paradise.