General Blogs
Adventure Begins with the Right Gear: Explore Ushood's Outdoor Collection
by Divya Krishnamoorthy on Nov 20, 2023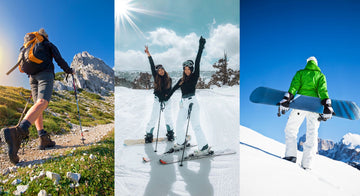 When venturing into the great outdoors, having the right gear can make all the difference between an enjoyable adventure and a challenging one. Whether hiking through dense forests, embarking on a camping trip, or simply exploring the beauty of nature, having the proper clothing is essential. Ushood's outdoor collection, featuring base layers and sunshirts, is designed to elevate your outdoor experience. With easy layering options, compact designs, and protective features, Ushood is quickly becoming the go-to choice for outdoor enthusiasts.
The Versatility of Ushood Base Layers
Ushood base layers are the foundation of comfort when spending time outdoors. Here's why they are a must-have for your next adventure:
Easy Layering:
Ushood base layers are the ultimate solution for seamless layering. Our sleek, form-fitting design ensures you can wear them effortlessly under any clothing without feeling bulky or restricted.

Upgrade your layering game and experience the comfort and versatility of Ushood base layers today!
Variable Coverage:
What sets Ushood apart is its ability to provide inconsistent coverage and protection.

With a built-in hood and neck warmer, you can easily adjust your level of coverage to adapt to changing weather conditions.

Whether you need complete protection or prefer to keep it simple, Ushood has you covered.
Compact and Convenient:
Are you tired of struggling to pack efficiently for outdoor adventures? Look no further than Ushood base layers.
These innovative garments combine a hood and neck warmer, providing extra functionality without the extra bulk. You'll save valuable space in your backpack while enjoying the added convenience of Ushood's versatile design.
Refrain from settling for bulky clothing that weighs you down. Upgrade to Ushood base layers and experience the ultimate outdoor comfort and convenience.
Antimicrobial Fabric:
Ushood's revolutionary base layers are the ultimate solution for outdoor enthusiasts. Thanks to antimicrobial fabric, you can wear them for extended periods without worrying about odor or hygiene. This means fewer washings are required, allowing you to conserve water and energy during your trips.
Don't let unpleasant smells ruin your adventures – choose Ushood's base layers and enjoy the freedom to explore without limits.
Experience Superior Sun Protection with Ushood Sun Shirts
When you're out in the sun, protecting your skin from harmful UV rays is paramount. Ushood sun shirts are the ideal choice for maintaining skin health while enjoying the great outdoors:
UPF 50+ Protection:
Ushood sun shirts offer UPF 50+ protection, the highest level of security available. This means you can significantly reduce the need for sunscreen, sparing you from the hassle of constant reapplication.
Rest easy knowing that your skin is fully protected from the sun's harmful rays, allowing you to enjoy your outing with complete peace of mind.
Comfortable and Breathable:
Ushood sunshirts are designed for maximum comfort. The fabric is breathable, allowing air circulation to keep you cool, even on hot days.
Enjoy your outdoor adventures without the discomfort of sticky clothing. Say goodbye to damp, uncomfortable clothes while you explore the wonders of nature.
Say goodbye to damp, uncomfortable clothes while you explore the wonders of nature.
Versatile Coverage:
Like Ushood base layers, sunshirts provide variable coverage. You can shield your arms, neck, and head from the damaging effects of the sun by wearing an item of clothing that has long sleeves and a hood.
To ensure a more comfortable experience, don't hesitate to roll up your sleeves or leave the hood down if you start feeling too warm.
Why Choose Ushood for Your Outdoor Adventures?
Efficiency:
Experience the ultimate convenience in clothing with Ushood's revolutionary designs. Say goodbye to bulky layers and hello to efficient adaptability to any weather condition.
Trust Ushood to provide unparalleled comfort and ease while keeping you stylish and prepared for any outdoor adventure.
Sustainability:
Ushood's unwavering commitment to sustainability is evident in every product they create.
By reducing the amount of washings needed and minimizing the need for sunscreen, Ushood actively conserves our environment. Choose Ushood for a more sustainable future.
Comfort and Protection:
Experience the ultimate protection and comfort during your outdoor adventures with Ushood.
Experience the freedom to fully immerse yourself in your adventure without worrying about discomfort or sunburn.
Adventure-Ready:
Explore the great outdoors easily and comfortably using the Ushood outdoor range. Whether you're an experienced hiker camper or love being outside,

Ushood is the perfect travel companion. Are you ready to start your next adventure feeling confident and stylish?

The right gear can elevate your outdoor adventures to new heights of comfort and enjoyment. Ushood's outdoor collection, featuring base layers and sunshirts, offers versatility, protection, and convenience.
Say goodbye to bulky clothing and the hassle of sunscreen, and say hello to a more enjoyable and sustainable outdoor experience with Ushood.
Elevate Your Outdoor Adventures with Ushood
As we wrap up our exploration of Ushood's Outdoor Collection, it's evident that choosing the right gear for your outdoor adventures can significantly enhance your experience.
Ushood has proven itself to be a reliable companion for outdoor enthusiasts, offering versatile base layers and sunshirts that prioritize comfort, protection, and sustainability.
With Ushood, you can seamlessly adapt to changing weather conditions, thanks to their easy layering options and variable coverage. Their compact and efficient designs save you valuable backpack space, while antimicrobial fabric ensures that you stay fresh during your outdoor escapades.
Moreover, Ushood's commitment to sustainability is commendable. By requiring fewer washings and reducing the need for sunscreen, Ushood not only enhances your comfort but also contributes to environmental conservation.
So, whether planning a challenging hike, a camping trip or simply seeking solace in nature, Ushood's Outdoor Collection has you covered. Embrace the great outdoors with confidence, knowing that you have the right gear at your disposal.
Gear Up for Adventure Today!
Are you ready to take your outdoor adventures to the next level? Take advantage of the benefits of Ushood's versatile and eco-conscious outdoor gear. Visit their website, explore their collection, and prepare for your next adventure with Ushood. Elevate your outdoor experience, prioritize comfort and sustainability, and make every adventure an unforgettable one. Don't wait; your next adventure awaits!