General Blogs
Fashion Meets Functionality: Ushood's Women's Outdoor Apparel
by Divya Krishnamoorthy on Nov 21, 2023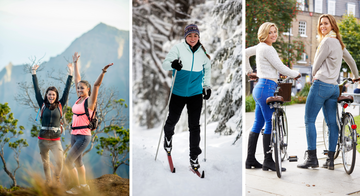 Ushood is a brand that has found the perfect balance between style and utility in outdoor apparel. It's not often that you can look good and feel comfortable simultaneously, but Ushood has made it possible. They have transformed practical clothing into fashionable pieces to make you stand out.
Ushood's Women's Outdoor Apparel collection, including the innovative Liteside Sun Shirt with a ponytail opening, revolutionizes how we experience outdoor adventures. In this comprehensive 1000-word blog, we will delve into the world of Ushood's outdoor apparel, exploring its commitment to style and functionality, the unique features of the Liteside Sun Shirt, and how Ushood is becoming a must-have for outdoor enthusiasts.
The Ushood Difference: Where Fashion Meets Functionality
Regarding outdoor apparel, performance, and practicality are often prioritized over style. However, Ushood has challenged this norm by creating a line of outdoor clothing that seamlessly blends fashion and functionality. Here's how Ushood is changing the game:
Stylish Designs:

Ushood's outdoor apparel is not just functional; it's also fashion-forward. The brand understands women want to look good while exploring the great outdoors. Ushood's designs reflect this ethos, offering stylish options that stand out on the trail or at the campsite.

Innovative Features: While style is a priority, Ushood keeps its functionality intact. Each piece of outdoor apparel has innovative features that enhance the outdoor experience. Ushood understands the needs of outdoor enthusiasts and has designed their products accordingly, with features like ponytail openings and integrated neck warmers. Trust Ushood to keep you warm and comfortable during your outdoor adventures.
Versatility:

Ushood's outdoor apparel is incredibly versatile. Whether hiking in the mountains, camping by the lake, or simply taking a leisurely walk in the park, Ushood's clothing adapts to various conditions and activities.
The Liteside Sun Shirt: A Game-Changer for Outdoor Enthusiasts
One of Ushood's standout products is the Liteside Sun Shirt, which features a unique ponytail opening at the back of the hood. Let's dive into what makes this shirt a game-changer for outdoor enthusiasts:
Ponytail Opening for Comfortable Hood Wear:
The ponytail opening in the Liteside sunshirt is a small yet significant innovation. It allows wearers to comfortably secure their ponytail or bun while keeping the hood up. Say goodbye to the discomfort of hair getting tangled in your hood and hello to hassle-free outdoor adventures.
Sun Protection:
Outdoor enthusiasts know the importance of sun protection. The Liteside Sun Shirt provides excellent UPF (Ultraviolet Protection Factor) to shield you from harmful UV rays, reducing the risk of sunburn during long hours outdoors.
Breathable and Moisture-Wicking:
The shirt's fabric is designed to keep you cool and dry, even in the heat. It wicks away moisture, ensuring you stay comfortable and sweat-free throughout your outdoor activities.
Compact and Packable:
Ushood understands the value of pack space when you're on the go. The Liteside Sun Shirt is incredibly close, making it easy to toss into your backpack without taking up much room. It's the perfect addition to your outdoor gear collection.
Perfect for Layering:
Ushood's base layers and sun shirts are designed with layering in mind. This means you can adjust your level of coverage and protection based on the weather and activity. Whether you need an extra layer of warmth or want to stay cool in the sun, Ushood has you covered.
Why Ushood is Essential Gear for Outdoor Lovers Especially Women?
Ushood's commitment to style, functionality, and innovation has made their outdoor apparel essential gear for outdoor lovers. Here's why outdoor enthusiasts especially women are embracing Ushood:
Comfort:

The Liteside Sun Shirt's ponytail opening is a game-changer for those with long hair. It ensures your hair doesn't get in the way of your outdoor fun, providing unparalleled comfort.

Protection:

Don't take any chances with your skin! Get Ushood's sunshirts today for unbeatable sun protection during outdoor activities. Our shirts are specifically designed to reduce the risk of sunburn and skin damage so you can enjoy your time outside with confidence. Don't wait another day to protect your skin - choose Ushood!

Versatility: Whether hiking, biking, fishing or just spending time in nature, Ushood's outdoor apparel adapts to your needs, making it versatile for various activities.
Style:

Looking good while enjoying the outdoors is essential to many women. Ushood's stylish designs allow you to express your style even in rugged environments.

Innovation:

Ushood's commitment to innovation means you can expect thoughtful features that enhance your outdoor experience, from ponytail openings to integrated neck warmers.
How to Incorporate Ushood into Your Outdoor Adventures?
Elevate your outdoor gear collection with Ushood's exceptional apparel. It has never been easier to upgrade your outdoor clothing!
Choose Your Style:

Explore Ushood's range of stylish outdoor apparel and select the pieces that suit your preferences and activities.

Layer Smartly:

Don't let unpredictable weather conditions get in the way of your outdoor activities. Stay comfortable and prepared with Ushood's base layers and sunshirts, designed for intelligent layering. Don't settle for discomfort or compromise your performance. Choose Ushood for the ultimate outdoor experience.

Pack with Ease:

Ushood's compact designs make them easy to pack. Slide them into your backpack, and you'll always have the right gear at your fingertips.

Stay Stylish:

Ushood's fashion-forward designs allow you to express your style, even in the great outdoors. Don't sacrifice fashion for function; Ushood offers both.
Ushood's Women's Outdoor Apparel represents a revolution in outdoor fashion. By seamlessly blending style and functionality, Ushood has created a line of clothing that empowers women to look and feel their best while exploring nature.
The Liteside Sun Shirt, with its innovative ponytail opening and sun protection features, is just one example of how Ushood is changing the game for outdoor enthusiasts.
Ushood's outdoor apparel is the perfect companion for any adventure, whether hiking, camping, or simply enjoying a day in the sun.
Experience fashion-meets-functionality in the great outdoors with Ushood's collection.