General Blogs
Stay Warm and Stylish: Ushood's Latest Winter Apparel
by Divya Krishnamoorthy on Nov 15, 2023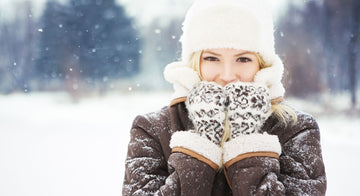 The leaves have started to fall, and the weather has cooled down, so it's time to plan your winter wardrobe. Ushood, a company that is well-known for offering winter gear that is both creative and cozy, is creating waves in the market of winter fashion. Winter fashion is a very competitive industry. In this post, we'll take a more in-depth look at the most recent winter collection from Ushood and analyze how the brand maintains the optimum balance between fashion and functionality in its products. Whether you want to go on an adventure during the winter or be warm and comfy during the season, Ushood has got you covered with its unique designs and uncompromising attention to quality. Ushood has got you covered with its innovative designs and unwavering dedication to quality.
The Ushood Story
Before diving into their latest collection, let's get to know the brand better. Ushood was born out of a simple yet brilliant idea: why not combine a hoodie with a built-in scarf to create the ultimate winter garment? This innovative concept quickly gained popularity, and Ushood was founded to bring it to life.
Over the years, Ushood has continued to evolve, introducing new designs and materials to provide warmth and style. Their dedication to environmentally responsible and sustainable business operations is another factor that sets them apart. Ushood has been a go-to brand for people who refuse to forgo fashion for warmth because of their focus on quality craftsmanship and attention to detail in their products.
The Latest Collection
Look at the newest winter collection from Ushood, which promises to take your winter wardrobe to the next level. Ushood's range gives a little of everything, from traditional to modern styles.
For those who appreciate timeless style, the Ushood is a must-have. Made from high-quality fleece, these hoodies are warm and incredibly soft to the touch. Ushood provides customers with individualized options for base layers and sun shirts with masks and hoods, all of which give unbroken coverage and comprehensive protection. We are proud of the extensive study and testing to ensure that the hood will fit correctly under helmets without obstructing the wearer's field of vision. People want their comfort and vibe protected from unwelcome elements such as dampness, sun, wind, or cold, getting in between their distinct items of clothing where there are gaps. The built-in scarf is designed to keep your neck cozy, while the adjustable hood ensures a perfect fit. With a variety of colors to choose from, you can easily match your Ushood with any outfit.
The Pinnacle Series
If you're an outdoor enthusiast, Ushood's Pinnacle Base Layers is designed with you in mind. Because these hoodies are constructed from water- and wind-resistant materials, you won't have to worry about being cold or wet even when the weather is at its worst. Ushood has solved that problem by providing full coverage in a single-piece garment that is quick to throw on and travels light. Whether you need a summer sun shirt or winter base layer, Ushood covers you for every season, sport, and activity with our 100% Made in USA custom-made design and fabrics.
Style and Versatility
What sets Ushood apart is its commitment to blending warmth and style seamlessly. Whether dressing up for a casual outing or layering up for a chilly day, Ushood's designs are versatile enough to accommodate any look. The neutral colour palette and minimalist branding allow you to accessorise to your heart's content, making these hoodies a staple in any fashion-conscious individual's winter wardrobe.
Quality and Durability
The longevity of Ushood's products is a point of pride for the company. These hoodies are made to last and will continue to supply you with warmth and comfort year after year. The stitching is perfect, and the materials utilised were selected for the garment's exceptional durability. When investing in Ushood, you purchase a winter friend built to last for many winters.
Have a great vibe on the mountain, trails, or campsite crushed b/c wind, sun, cold, rain, or snow got in between the separation between different pieces of clothing? That's called gappage, and nobody's got time for gappage. Our custom all-in-one design eliminates all gappage from hood to hem, keeping you fully protected and comfortable.
They are made of a custom poly/spandex blend (86/14) with a brushed interior for added softness.
It is made of a custom poly/spandex blend (88/12) with a UPF50+ finish, a product of SUNLIFE by NICCA that does NOT contain any chemicals on the RSL (Restricted Substance List).
The Ushood Reflective line is designed for safety with a pattern that refracts light so you are seen in low light conditions.
In a world where fashion and functionality often clash, Ushood finds the perfect balance. Their latest winter collection offers a wide range of options, from classic and timeless to eco-friendly and adventure-ready. With Ushood, you can stay warm and stylish throughout winter without compromise. So, as the temperature drops, take advantage of the opportunity to upgrade your winter wardrobe with Ushood's latest offerings. Stay warm, stay stylish – with Ushood.
Ready to elevate your winter wardrobe with Ushood's latest winter apparel? Don't let the cold weather cramp your style – experience the perfect blend of warmth and fashion today. Visit our website to learn more about our most recent selection and to choose the Ushood that best satisfies your preferences and requirements. We have something special in store for you, whether you are:
A follower of traditional styles.
An enthusiast of outdoor activities.
An environmentally sensitive consumer.