General Blogs
Slope-ready Outfits: Qualities of Ushood's Snow Gear Collection
by Divya Krishnamoorthy on Nov 16, 2023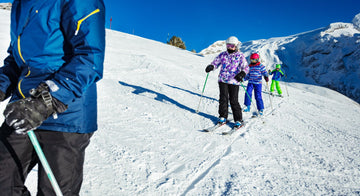 When conquering the slopes and enjoying winter sports to the fullest, your choice of gear matters. Ushood's Snow Gear Collection is here to elevate your winter adventures with a range of meticulously designed, high-performance clothing. Every piece, from base layers to sunshirts, is manufactured to guarantee a flawless fit and the highest comfort level possible. Ushood is pleased to provide you with comprehensive protection and coverage, allowing you to concentrate on the exhilaration of the slopes without having to worry about unwelcome elements such as wetness, sun, wind, or cold penetrating your clothing.
In this blog, we'll deeply dive into Ushood's Snow Gear Collection, highlighting the key features that make it a must-have for slope-ready outfits.
Ushood®: Where Comfort Meets Performance
At Ushood®, the quest for perfection in performance apparel is a relentless one. They understand that no one wants their comfort or vibe compromised by unwanted moisture, sun, wind, or cold entering through gaps between separate pieces of clothing. To address this common issue, Ushood® has taken the initiative to provide full coverage in a single garment that is not only quick to throw on but also travels light.
Key Features of Ushood Snow Gear Collection
Ushood's Snow Gear Collection is increasingly becoming a preferred option for individuals seeking an ideal blend of functionality and convenience while snowboarding.
Custom-designed for Precision Fit
Ushood's snow gear is meticulously designed to ensure a snug and comfortable fit, especially when worn under helmets. No more worrying about visual obstructions or discomfort when hitting the slopes.
Made in the USA
Ushood® proudly stands behind its 100% Made in USA custom-made design and fabrics. Quality and craftsmanship are at the forefront of their mission, which shows in every product they create.
Versatile for Every Season
Whether you're gearing up for a summer adventure or braving the winter chill, Ushood® has you covered for every season. Their range of products caters to a variety of sports and activities.
Moisture-wicking and Breathable
Comfortable dryness is maintained by the moisture-wicking properties of Ushood's fabric, even when engaging in vigorous physical activity. It prevents overheating and aids in temperature regulation, keeping you hydrated throughout your adventure.
Ideal for Winter Sports
Ushood Pinnacle, a cherished item from their Snow Gear Collection, revolutionizes how winter sports devotees engage in activities. It provides an ideal combination of permeability and warmth, rendering it a highly suitable option for a base layer while adventuring on a mountainous excursion. Designed to fit snugly under a helmet, the cowl eliminates any visual obstructions.
Perfect for Bikers
If you love biking, you will appreciate the smooth and comfortable fit offered by Ushood® layers. These layers not only protect you from the sun with a UPF rating of 50+ but also ensure that you remain sweat-free and relaxed, thanks to their breathable and moisture-wicking fabric. These flexible layers provide comfort and protection across different terrains and weather conditions.
Sun Protection
The sun shirts sold by Ushood come equipped with hoods and masks that may be worn over the top to provide additional protection from the sun. You don't need to be concerned about becoming sunburned when engaging in healthy outdoor activities like going to the beach or riding your bike on a bright day.
Lightweight and Easy to Carry
The importance of portability in the here and now is something that Ushood® is well aware of. Their products' ability to be folded up and carried in a small amount of space provides you the peace of mind that they can accompany you wherever your travels take you.
No More Hassle with Extra Accessories
The all-in-one design of Ushood eliminates the need to transport additional buffs or hats. You have uninterrupted protection without the requirement for numerous articles of equipment, whether you are visiting the lodge for a break or venturing out onto the slopes.
Loved by Winter Enthusiasts
Winter sports fans have flocked to the Ushood Pinnacle in recent years. Because it wicks away moisture while still allowing air to circulate, this base layer is the best option for individuals who want to beat the cold without compromising their style or comfort.
Elevate Your Slope-Ready Outfit with Ushood®
Ushood's Snow Gear Collection is a game-changer for anyone who values comfort, style, and functionality in their outdoor apparel. Whether you're a winter sports enthusiast or a biking lover, Ushood® has designed its products to cater to your needs. With their custom-made design, commitment to quality, and dedication to providing complete protection, Ushood® is setting new standards in slope-ready outfits. Elevate your outdoor adventures with Ushood®, where comfort meets performance, and experience the difference for yourself.
Recall that the weather and your degree of activity level are crucial factors to consider when selecting your slope-ready wardrobe. You may choose from a range of alternatives in Ushood's Snow Gear Collection to fit your needs and style so you can be ready for a fun-filled day in the mountains this winter. When you go on your winter adventures, remember to layer appropriately and give comfort and safety the top priority.
"Ready to upgrade your slope-ready outfit and experience the perfect blend of comfort and performance? Explore Ushood's Snow Gear Collection today and discover the difference. With Ushood®, you can confidently elevate your winter sports and outdoor adventures with custom-designed gear that's sure to impress. Don't settle for less - gear up with Ushood® and prepare for unforgettable experiences!