General Blogs
Trail Blazers: Ushood's Hiking Apparel for All Terrains
by Divya Krishnamoorthy on Nov 17, 2023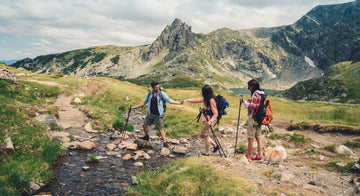 When venturing into the wilderness, having the appropriate equipment can make all the difference. The hiking apparel offered by Ushood was created to provide outdoor lovers with the ideal combination of functionality, comfort, and protection.
At Ushood, we are committed to delivering the highest quality hiking apparel to our customers. We understand the challenges that hikers face in various terrains, from rocky mountains to dense forests, and we design our products to meet those challenges head-on. Our gear is built to withstand the rigors of the outdoors, ensuring that you can hike with confidence and comfort. As a result, it should be considered an essential component of any outdoor wardrobe.
Ushood's hiking apparel is built to handle the challenges of various terrains, making it an indispensable choice for outdoor enthusiasts. Whether trekking through dense forests, ascending rocky peaks, or simply enjoying a leisurely hike through rolling hills, Ushood's collection has you covered.
The All-in-One Essential: Ushood Base Layers & Sun Shirts
Base layers and sunshirts from Ushood redefine how outdoor enthusiasts dress for their excursions in the great outdoors. These multipurpose garments offer a variety of advantages, which make them an excellent option for hikers, campers, and other outdoor enthusiasts.

When enjoying the great outdoors, having the right gear is paramount. Ushood's base layers and sun shirts have emerged as the all-in-one essentials every outdoor enthusiast should have in their arsenal. In this article, we'll explore why Ushood's base layers and sunshirts are the ultimate outdoor companions.
Compact and Ready for Every Adventure
The small design of Ushood's base layers and sunshirts is one of the brand's most notable and distinctive characteristics. Ushood knows that every inch of available pack space is essential when hiking, and he plans his packing accordingly. Because of the clever incorporation of a hood and a neck warmer, the space utilized by these shirts is maximized to a remarkable degree.

Imagine the ease of having a hood and a neck warmer already integrated into your coat without the need for any other accessories.

The all-in-one design of the Ushood keeps you covered, whether you're exploring trails in the sun or trekking through icy alpine terrain.
Versatile Layers for Adjustable Coverage
Nature is unpredictable, and weather conditions can change rapidly when you're out on the trail. That's where Ushood's base layers and sunshirts genuinely shine.

They offer adjustable

coverage that allows you to adapt to changing conditions effortlessly.

On cooler days or early morning hours, you can pull up the hood and neck warmer for added warmth and protection.
As the day warms up, peel back the coverage to stay comfortable. It's an intuitive design that caters to your needs, ensuring you can focus on your adventure rather than constantly adjusting your clothing.
Enjoy adjustable coverage that lets you stay comfortable in changing weather conditions, making your outdoor adventures hassle-free.
Antimicrobial Fabric for Extended Wear
Antibacterial fabric is another significant benefit that distinguishes the hiking apparel produced by Ushood. Because of this function, not only will you feel clean and refreshed while you are adventuring in the great outdoors, but you will also be able to wear your Ushood layers for a more extended period before washing them.
If you spend less time cleaning your gear, you'll have more time to devote to adventuring in the great outdoors.
UPF 50+ Protection: Your Sunscreen Alternative
When spending time outside, it is necessary to take precautions to prevent damage to your skin from the sun's ultraviolet rays. The sun shirts and base layers sold by Ushood all include UPF 50+ protection, which provides exceptional resistance against the harmful effects of the sun's ultraviolet radiation. Because of this, you won't need to rely as heavily on sunscreen, and you won't have to reapply it as frequently, either.

With Ushood, you won't have to worry about getting a sunburn or causing damage to your skin even if you stay in the sun for a long time.

Those who are concerned about both their health and the state of the environment will find this option to be both beneficial and sustainable.
 Sun Protection Simplified:
Outdoor enthusiasts will find that the hiking apparel made by Ushood changes the game. It is obvious that these base layers and sunshirts are necessary pieces of equipment for everyone who enjoys spending time outdoors due to their lightweight and portable design, coverage that can be adjusted as needed, antibacterial fabric, and sun protection rating of UPF 50+.
Whether you're a seasoned hiker, a camping fanatic, or just someone who likes the odd outdoor excursion, the hiking apparel offered by Ushood provides unrivaled levels of comfort and safety.
 Compact Convenience:
Ushood's all-in-one design with a hood and neck warmer saves space in your backpack and eliminates the need for extra accessories.

End the trouble of lugging extra gear and continually reapplying sunscreen on your face and body. Ushood has revolutionized the concept of outdoor wear, making it more straightforward to appreciate the splendour of the natural world while maintaining a level of comfort and safety.

Are you prepared to take your experiences in the great outdoors to the next level? Discover the difference with Ushood's high-quality hiking apparel. Find out today how our base layers and sunshirts may provide convenience, comfort, and protection from the sun.

Ushood is the ideal choice when you want to spend time outside but want to be unrestricted by standard hiking clothing.

You can forge your path and have a unique encounter with the natural world when you use Ushood. By outfitting yourself with Ushood, you may feel confident and stylish as you prepare for your next journey.
Prepare yourself, get out there, and let Ushood help you carve your route. Gear up and blaze your trail with Ushood by your side! Shop now and set out on your next adventure with unwavering confidence.